About Jack
In his own words, from Neurology Medical Group of Diablo Valley:
After earning my MD degree from Boston University School of Medicine in 1952, I spent six years in training in internal medicine and neurology, eventually becoming certified in both fields. Following a few years on the neurology faculties at several medical schools: the University of California in SF, the University of Minnesota and Illinois, I opened a private neurology practice in Walnut Creek and Concord, Calif, in 1965. Doctor Steven Holtz joined me in my practice in 1979, and Janet Lin came to us a few years later.

That led to the formation of the Neurology Medical Group of Diablo Valley. Doctor Raymond Stevens joined us a few years after that. Since then the group has grown to the present number of nine full time practicing neurologists, all board certified. I retired from active practice in 1998. I am happy to report that the group is continuing to flourish and maintain the high standards we had set at the very beginning.
---
And from the Phoenix Hall Writers' Blog:
I came to writing late in my life. During a long medical career I established a neurology practice in Walnut Creek and Concord, California, and was also involved in hospital teaching. Over the years I published nine scientific articles in major medical journals.

Although I heard the muffled tapping of my muse when I was fifteen, it wasn't until I retired from my career that I turned my full attention to serious writing.

Inspired by my life's experiences, I began my first novel, Ancient Stones, about five years ago. The story is about a man who is driven to discover his origins and to find his place in this world. By the end of the book the reader would learn that despite a dysfunctional family, the absence of a model, and insecure ties to his past, the protagonist ultimately understands who is and where he belongs.

Following two and a half instructive years of working with a freelance editor, I joined the Mount Diablo Branch of the California writers Club. I soon discovered that I learned more of the art and craft of writing from interacting with fellow writers in critique groups than I learned in any other forum. None more than at the Phoenix Hall Writers group. My fellow "Phoenicians" probably don't know that I think their critiquing is an instrument of continuing inspiration rather than one of depletion.

As my fascination with the wonders and intricacies of the human brain grew I became intrigued by the similarities in the architecture and functions of cetacean brains. After several years of research on that subject, I took three months off from my busy schedule and published a science fantasy, Mister Bluefin, about the adventures of a marine biologist and a blue whale (available on Amazon.com).
---
Among his many accomplishments, Jack Drori will be remembered as a wise and superior intellectual with a wonderful sense of humor and caring spirit. He fought for the good with indefatigable passion.
Literary Work
Below you can enjoy Jack Drori's poetry and essay collection. You can also find more information about the books he authored.
Poetry
Essays
Books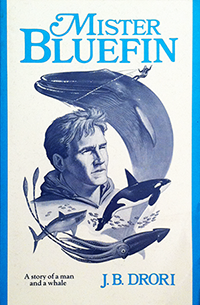 View on Amazon.com
What Was Hagoral?
The word hagoral is Hebrew and loosely translates to the good fate or the good destiny.

Hagoral.com was one of Jack's last projects. The goal was to create t-shirts to spread positive messages about various world problems. The first t-shirt dealt with the paradox of the historic vilification, hatred and killing of Jews and how yet the world eagerly embraces all things created by Jews.

The organization's mission, as written by Jack:
Hagoral's mission is to stimulate everyone everywhere to become informed and involved in uniting to combat baseless wars, to eliminate prejudice, racism and ignorance, to fight world hunger and thirst, disease, poverty, terrorism, addiction, government corruption, slavery and child prostitution.

Remember, all man-made dilemmas can be solved!